An ESQSites' website has three basic cost components: 
One-Time Set-Up

Domain Name (if applicable)

Monthly Hosting
You will see the breakdown of all three amounts in your order total within the Order Summary box at checkout.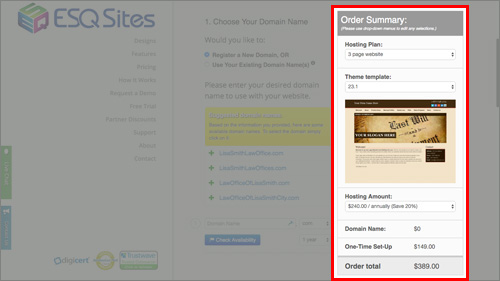 One-Time Set-Up
What makes ESQSites so incredible? Our unique system development! The 
Set-Up fee
 directly funds the functionality of this easy-to-use interface (i.e. Dashboard, Editor, Templates, etc.) and programming upgrades.  
The Set-Up fee is charged at the time of your subscription purchase. Our Set-Up fees range from a minimum of $149 to a maximum of $299 depending on your chosen subscription package. To view these packages and their options, click 
here
. Discounts are available to members of Affiliated Bars we partner with in the form of a coupon code.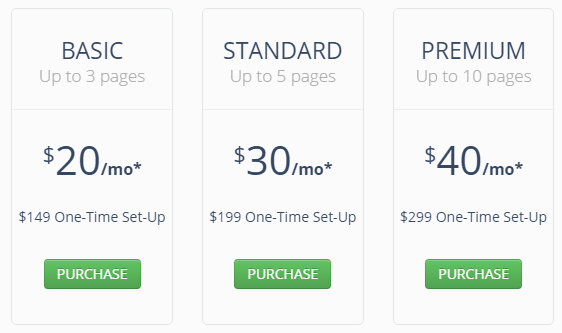 Domain Name
The 
cost of your Domain Name
, i.e. "johnsmithlaw.com", will be listed in your Order Summary for the amount of $35 for the first Domain Name for Basic and Standard subscribers, with subsequent Domain Names for $25 each for the second one on when management of domains is handled by ESQSites. Premium level subscribers can enjoy the initial first Domain Name for free for the first year with subsequent domain names each at only $25 annually for the second one on. 

ESQSites manages Domain Name registration when you set up a new Domain Name at check out or when you 
transfer an existing Domain Name
 over to us. Alternatively, customers can retain a registered Domain Name with a 3rd party registrar (i.e. GoDaddy, NetSolutions, etc.) at no additional cost.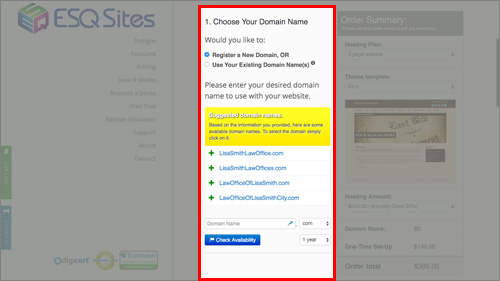 Monthly Hosting
Every website has web files stored on a networked computer called a server, allowing content to be called up and viewed by internet users--this storage service is called 
hosting
. The amount of the monthly hosting charge depends on your chosen subscription package; Month-to-Month or Annual billing is available--Annual subscribers save 20%. ESQSites, not any other 3rd party server, must be your exclusive hosting provider because our servers not only store your website files, but also allow access to our easy-to-use interface programming. For more detailed information on these costs, please see ESQSites' 
Pricing Plans
.