ESQSites makes it simple to register and set up a custom domain. All the configuration is done for you and your custom domain is automatically set up for you! You may also use a third-party domain and in this article, we will provide the information you need to configure your settings for ESQSites.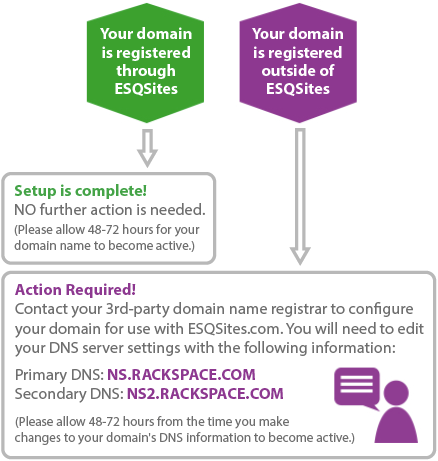 If you registered your domain through ESQSites, you will not need to take further action to activate it. Please allow 48-72 hours from the time of registration for activation to be complete and your domain to become live.

If you registered your domain through a third-party, you will need to complete setup by editing your DNS (Domain Name System) settings with our information. We are not able to make these changes for you, so you will need to take these steps by contacting your domain name provider or logging into your third-party domain account. Each domain name provider has different steps you must take in order to update your settings but general instructions for making the changes are:
 
Log in to your account with your domain name provider.

​

Find your DNS settings. These should be found in an area such as your account admin panel, DNS configuration, or domain management.

Open the settings, if you are able, and view your current DNS records.

Update your primary and secondary DNS "name servers" with the following information:​

​​​​​

​Primary DNS: NS1.DIGITALOCEAN.COM
Secondary DNS: NS2.DIGITALOCEAN.COM
Secondary DNS: NS3.DIGITALOCEAN.COM
By updating your DNS settings to use our "name servers," you are naming ESQSites as the host of your domain name. Once these settings have been saved, please

allow 48-72 hours for the changes to be active and your domain to become live.