Click here to view the Video Tutorial
Taking the time to enter Meta Tags, Descriptions, Titles, Images, Alt Tags, Headers and Anchors
definitely influences your rank on a
SERP
 (Seach Engine Results Page). 
Google and other search engines use these "tags" to generate search results based on the keywords specific to your website.
To add Meta Tags to Your Website, follow these steps:
STEP 1: Please log in to your ESQSites' account. 
Please
see ESQSite's 
Log In to Your Account Instructional
.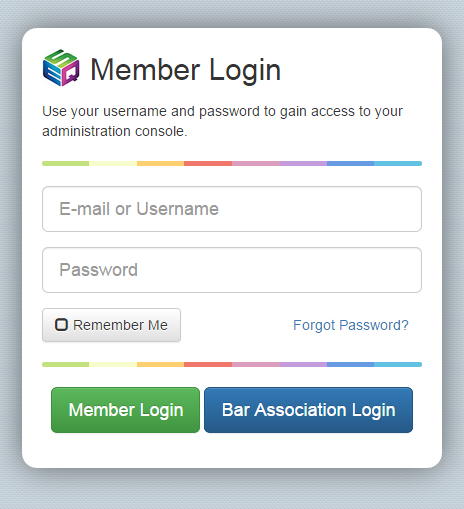 STEP 2: C
lick on the "Pages" icon.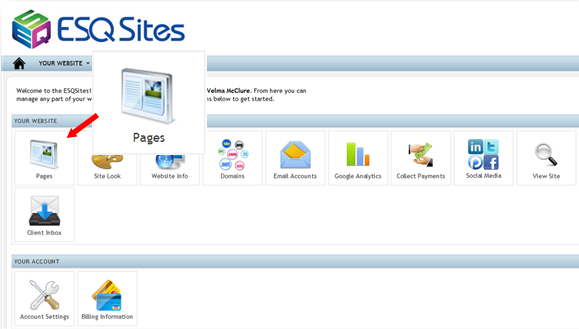 STEP 3:
Click on one of your desired website pages you wish to keyword: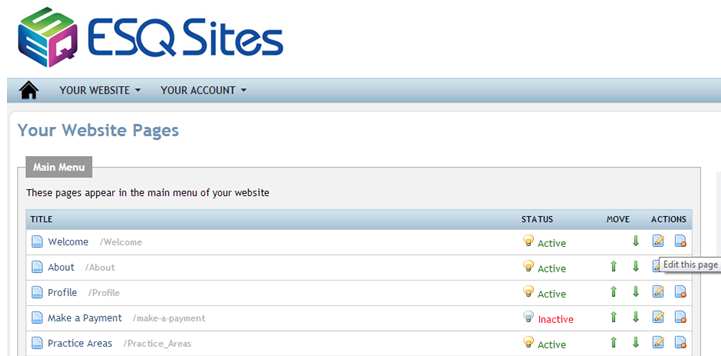 STEP 4:
Scroll down to the bottom of the page and you will see "SEO and Meta Settings".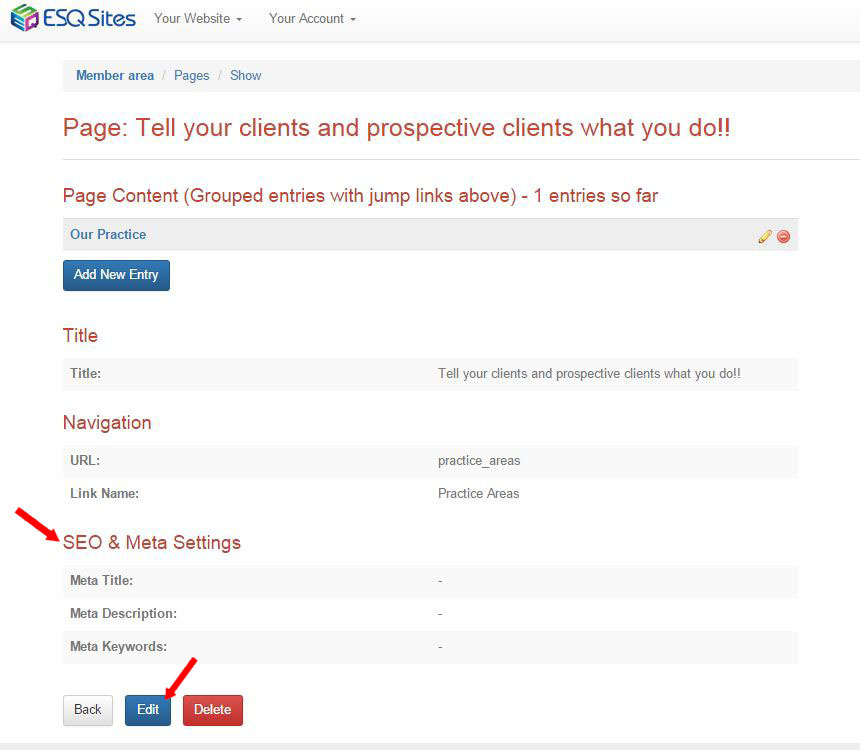 Note: Each page has their own set of tags and keyword. The SEO and Meta Settings are also located in the "Page" icon and in the "Website Info" sections of your website
.    
STEP 5:
Meta Title (Title Tag): Here, enter what you want visitors to see in the "Title Bar" of your web browser and/or tabs on your web browser. The Meta Title should be 10-60 characters.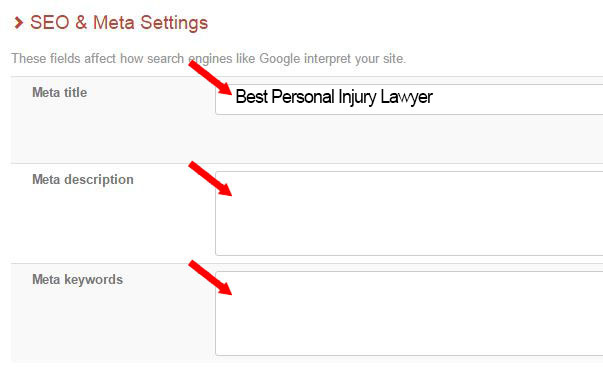 "Title Tags" also appear on as the headline of most search snippets on search results pages.


STEP 6:
Meta Description: Here you want to enter a short description of the important information visitors should know about this webpage. The meta description should employ the keywords intelligently, but also create a compelling description to cause a searcher to click on the link. Direct relevance to the page and uniqueness between each page's meta description is key. The Meta Description should be 70-160 characters.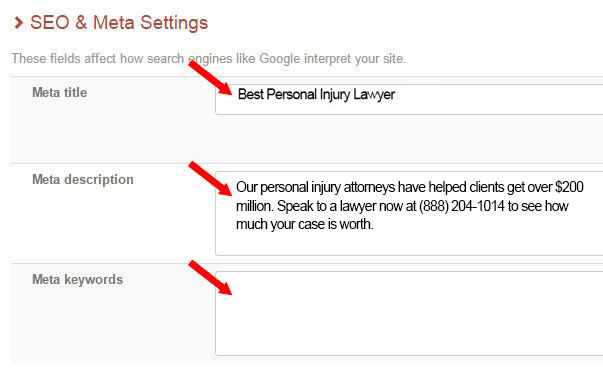 Note: You can enter your Meta Description on any page on your website.

Click the "Save" Button at the bottom of the page frequently during your progress so you don't lose any work. You can return to complete or modify your Meta entries at anytime.

STEP 7:
Meta Keywords: You can enter up to 250 characters of keywords specifically within the page that would be used to search for that information.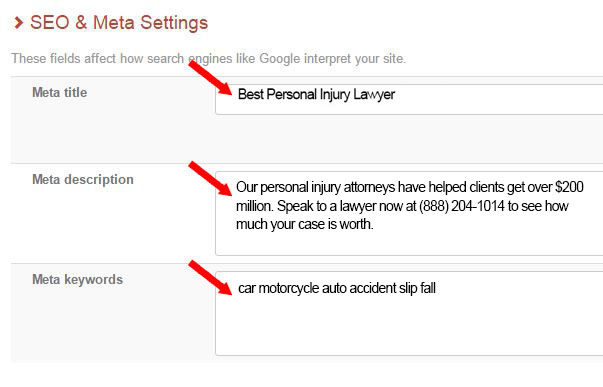 Note: Keywords, spaces, commas, periods and all other punctuation marks counts towards the 255 character limit.

All of these fields should be completed individually for each page, disclaimer page, and in the "website info" icon.
You should insert keywords and keyword phrases which you would expect someone searching to use when performing a Google or other internet search to find you. Make a list of the most important terms on your website. Read through the list. Pick the top 10 or 15 terms which most accurately describe the contents of the page. 
Though meta keyword tags are not a major factor search engines consider when ranking sites, they should not be left off the page. Both the meta keyword tags and the meta description tags contribute to your search engine ranking. A meta keyword tag is supposed to be a brief and concise list of the most important themes of the web page.
For example: If your page is a list of types of cases your firm handles then ask yourself, "what 10 or 15 words or phrases is this page MOST about?" Just because your page mentions personal injury in the text doesn't mean that the page is about personal injury. The ultimate example of a page which is focused and ready for search engine optimization is a page from an encyclopedia. Each page is brief, focused, and has just one theme.
STEP 8:
Click the Save button at the bottom of the page.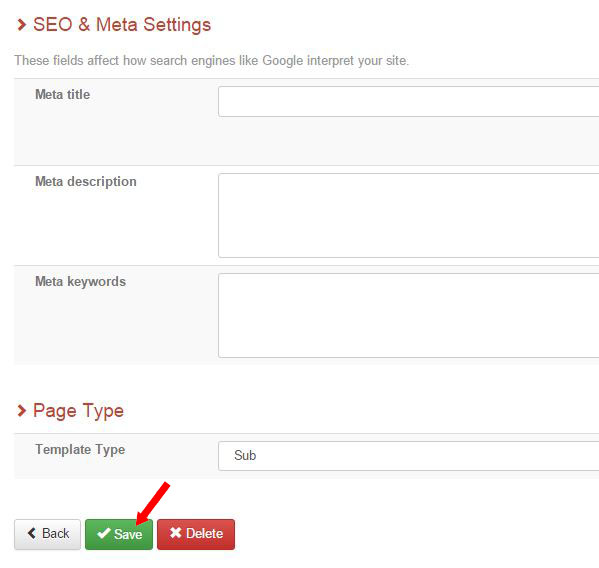 STEP 9:
Once you have entered the meta tags on your Website Pages, go to the "Website Info" icon and click on the "edit" button to complete the Meta Information on the Website Info page.  
-End of Topic-