The SEO Marketing Methods suggested below are based on Google's search engine methodology.*
The suggestions below remain applicable for other search engine companies too, i.e. Bing, 2nd place with 18% U.S. search engine market share, as they perform similar practices.

*Google dominates the U.S. search engine market at an incredible 67% (Statistical data source: 
comScore.com
). 

C
ommon Influential Rank 
Factors: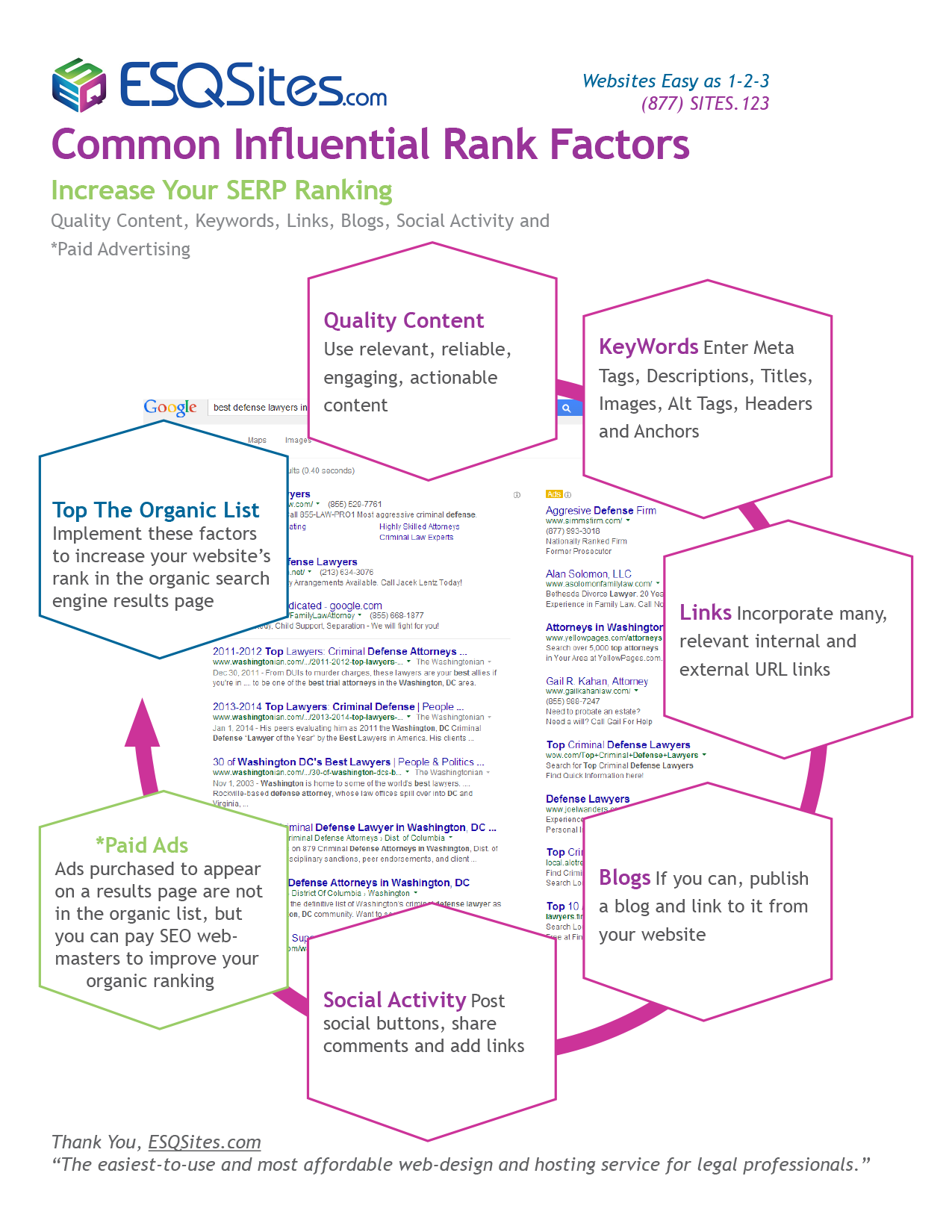 Please open the 
Common Influential Rank Factors PDF version
 by clicking the image, this
 link or on the
 attached
 PDF listed below. 
Quality Content
Your webpages should contain relevant, reliable, engaging, actionable content. When you publish robust content, the search engines have more dynamic data to index, therefore improving your rank. Your published data on your site gets listed on the 
SERP
 (Seach Engine Results Page).
KeyWords
​It's wise and worthwhile for you to enter Meta Tags, Descriptions, Titles, Images, Alt Tags, Headers and Anchors. 
Please see ESQSites' 
Meta Tag Instructional
 and
SEO of PDFs Instructional
.
Links
Set up your website with many, relevant internal and external links. Please see ESQSites' Add URL Links to your Website Instructional.
Blogs 
If you can, publish a blog and link to it from your ESQSites' website.
Domain Names 
If possible, purchase a long-term Domain Name registration as your future commitment intentions along with your past history of how long you've carried your Domain Name (Domain Age) influence your rankings.
Social Activity
It's easy to post social buttons using ESQSites' dashboard. Be sure to share comments and links too.
Please see ESQSite's Add Social Media Links to your Website Instructional.

Paid Advertising
There are many avenues to pursue regarding online advertising: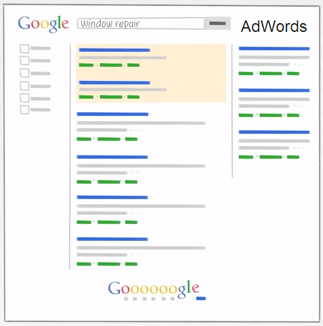 Search Ads and Search Partner Ads
Google Map Ads
Display Ads and Banner Ads
Admobs
Pay Per Click/Cost Per Click Ads
YouTube TruView Ads
Please 
see Google's 
AdWords
 and/or 
Sign up for Google Partners.
Ads purchased to appear on a results page are not in the organic list, but you can buy an 
SEO package
 from ESQSites to improve your organic ranking. 
Please see ESQSites' 
SEO Cost
for more details and/or
 contact us at our email 
ESQSites
or call 877.ESQ.Sites. There are other 3rd party SEO providers outside of ESQSites.
For other related topics, please see Google Analytics or ESQSites' Meta Tag Instructional.
Thank You for using ESQSites.
"
Web design and hosting service for legal professionals
."