How many templates do you presently have?
While ESQSites has over 30 various template designs. All designs are mobile friendly and compliant with
Google's April 21st update
.
Which ones are mobile friendly?
All of our templates are mobile friendly.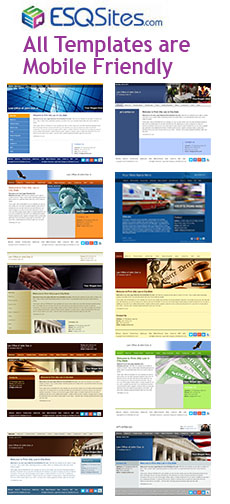 ​




























How frequently do you add templates to the gallery?
Every three to four months. You will be notified when new designs arrive.
Can I change the color of the templates?
Color palette control will arrive soon in our next update of ESQSites' System Development.
Can I place images on the templates?
No, not on the template, but there are format areas (i.e. phone number placement) and you can always add images in your context areas.
How often can I change the template?
Any time you desire and as frequently as you wish while retaining your web data. We recommend choosing a template and keeping that style long-term to build branding and recognition.
How easy is it to change the template?
Very Easy. Click on the "Site Look" icon from your dashboard and select a template of your choice.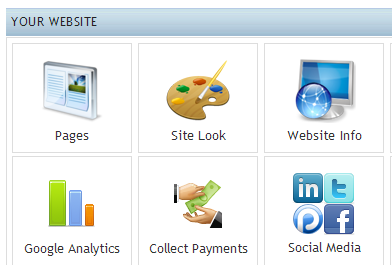 How long does it take to set up a website?
30-60 minutes. Entering your information to subscribe to ESQSites.com takes just minutes and then our background programming can have your website live in one day.



IMPORTANT

: If your Domain Name is registered by a 3rd party registrar and NOT handled by ESQSites' you 

MUST 

see ESQSites' Change Your DNS "A" Record Instructional to perform the Point To yourself. 
Again, i
n order for your website to be visible to internet users, you must perform the Point To and take steps using your 3rd party registrar's website to direct your Domain Name (i.e. "johnsmithlaw.com") to point properly to ESQSites' servers.

If you registered your Domain Name via ESQSites your Point To will be handled for you, free of charge.
Please see
ESQSites'
Meta Tag Instructional
 or our
 list of 
Common Influential Rank Factors
 that you can control to increase your website's rank.
Can I place my own photos on your website?
Yes, you can always add images in your context areas.
Please see ESQSites' Insert Images to Your Website Instructional.
Can I name my own pages?
Yes. Click on the "Pages" icon from your dashboard and select a page to customize with your text input.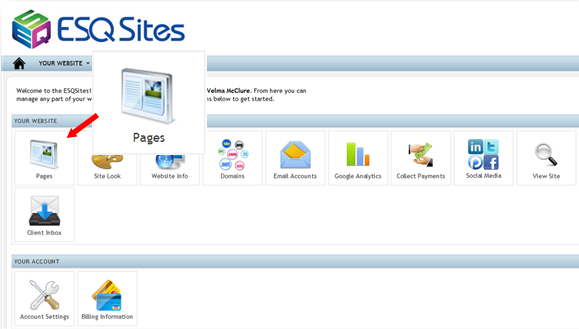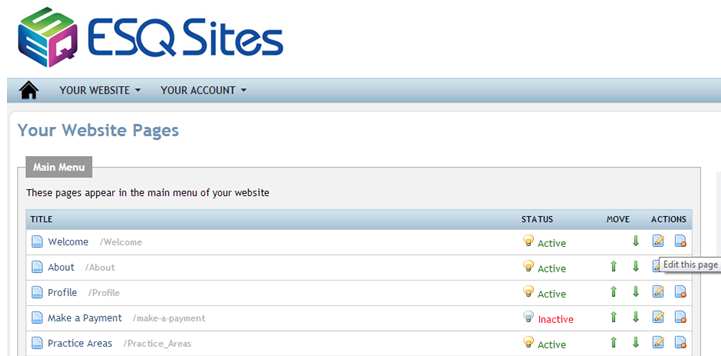 Who makes changes to my website?
You input directives using the ESQSites' dashboard and editor, and our programming puts your commands in to action immediately.
-End of Topic-
For other related topics, please see Hosting or 
D
omain Names
Thank You for using 
ESQSites
.
​
"
Web design and hosting service for legal professionals
."