You'll have the opportunity to register an available Domain Name, or enter an authorized existing Domain Name, during ESQSites' secure checkout process using our Domain Name form.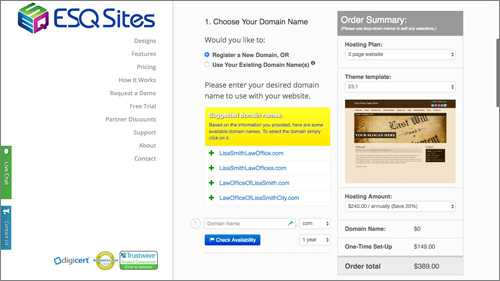 You will be asked to select whether you would like to Register a New Domain or Use Your Existing Domain Name(s).

If you choose to register a new domain, please enter your desired domain name, or select one of the Suggested domain names, and click Check Availability. Next, select the drop down box to choose the number of years for which you would like to have the domain name registered. Y
ou are then prompted to 
Add Another Domain 
or
 Proceed
.
ESQSites will manage the registration, set-up and renewal of your Domain Names automatically for you! 
If you choose to use your existing domain name or names, please enter your domain name into the domain name field and click the right facing arrow. At this point, you will be prompted to Add Another Domain or Proceed. 

Premium subscribers can enjoy one FREE Domain Name the first year, and then pay only $25 for every annual renewal or subsequent Domain Name. Basic and Standard subscribers pay only $35 the first year for the first Domain Name, and then pay only $25 for every annual renewal or subsequent Domain Name when ESQSites manages the registrations. For information on discounts, please click here.

Using ESQSites as your Domain Name manager has the added value of never having your website go down due to a lapse in Domain Name renewal. A lapse in renewing a registered Domain Name allows the website Domain Name to go back in to the available pool of for others to capture and register as theirs. There can be fees to re-capture a lapsed Domain Name; immediate action will typically cost less to nothing versus waiting over a month.

Please see ESQSites' Domain Names Cost FAQ.
IMPORTANT:

 In order for multiple Domain Names to point to one website, your Domain Name registrar must point your DNS Records to ESQSites' webserver: If your Domain Name is registered through a 3rd party (i.e. GoDaddy to NetworkSolutions, etc.) outside of ESQSites, you MUST see ESQSites' instructions for Configuring Your Domain. However, if ESQSites is your Domain Name registrar, no action is required as ESQSites handles the DNS records and server point-to free of charge.

Please see ESQSites' Meta Tag Instructional and SEO Marketing Methods which includes a list of Common Influential Rank Factors that you can control to increase your website's rank.