Click here to view the Video Tutorial
 on adding and removing pages
After you have created your website, the next step is adding content to your site -- and over time, you will likely need to go back and edit or add additional content to keep your information fresh and updated.
We've designed EsqSites' Editor to be simple to use and much like other desktop text editors (i.e. Microsoft Word). The difference being, desktop word processors are used to create printed content on physical pages. EsqSites' Editor creates text to be published on the Internet, which is read by web users and indexed by search engines. Please see ESQSites' 
SEO FAQs
.
To add or edit content on your website,
you will need to be logged into your account. For instruction on how to log in, 
please
see ESQSites' 
Logging In and Out of Your Account
 article.
Once you have successfully logged into your account and 
you are viewing the member dashboard, c
lick on the "Pages" icon to access an editable list of your website pages.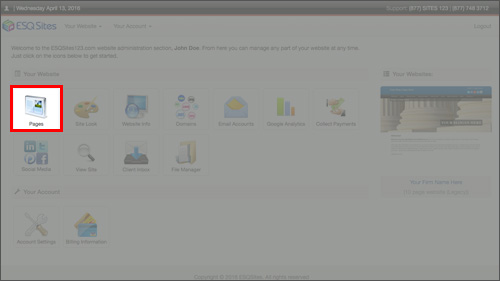 On the "Your Website Pages" screen, you will see a list of all the pages on your site, both active and inactive.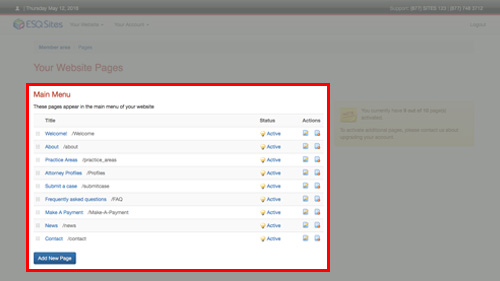 To activate pages that are currently inactive,
simply click on the word "Inactive," with the gray light bulb icon, to activate it. L
ikewise, to deactivate a page, click on the word "Active" to deactivate it.
Your changes will take effect immediately.
 For more information on this, please see the ESQSites' 
Activate or Deactivate Pages on Your Website
 article.
To add a new page, click the blue "Add New Page" button at the bottom of the Main Menu List.



Under "Create New Page," select the appropriate template for your content in the dropdown menu under "Page Type."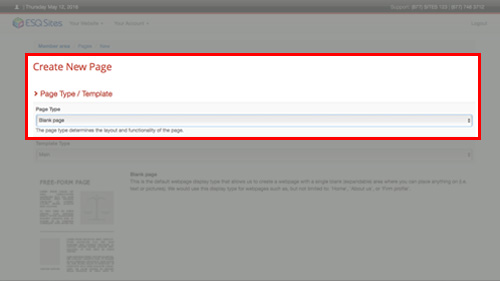 After you have made this selection, scroll to the bottom of the screen and click the "Create Page" button.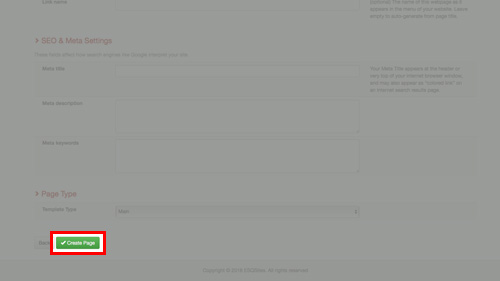 To edit the content on your pages, simply click on the name of your website page OR click the pencil-on-paper icon in the right column under "Actions."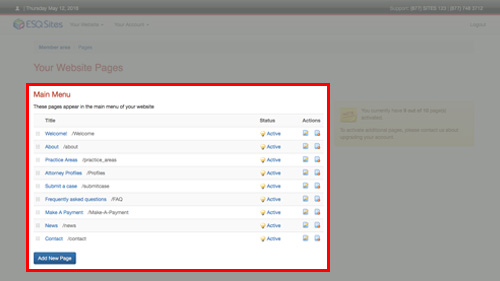 Depending on the type of page you select, the editable page will allow you to update the content based on the template chosen. For more detailed information on how to use the ESQSites' editor on pages with free-form written content, see the
Format Your Content with Toolbar Editor
 article.



After you have completed your edits, scroll to the bottom of the screen and click the "Save" button and your changes will take effect immediately.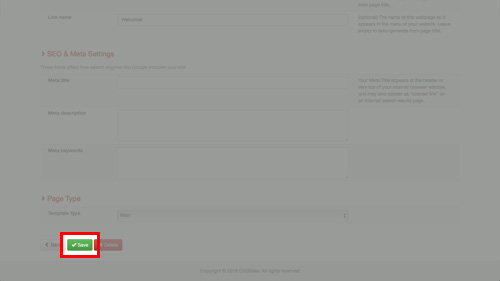 Thank You for using 
ESQSites
.


"

Web design and hosting service for legal professionals

."